December 15, 2016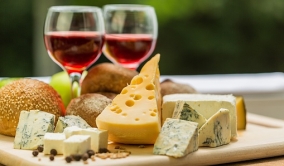 INDULGE IN A NIGHT OF WINE TASTING IN SAN FRANCISCO DURING YOUR NEXT STAY AT HOTEL DIVA.
Date: December 15, 2016
If you're looking for things to do during a stay at Hotel Diva then consider spending a few hours enjoying a Wine Tasting in San Francisco. Of course, the true wine lover will want to take the drive to Napa Valley - and it's worth every minute of the 1.5 hour drive – but you can taste fabulous wines from around the world without ever having to leave the city limits. You'll find that there are several lovely wine tasting rooms located near our San Francisco Hotel, so add a visit to one of these spots to your itinerary during your next visit. Below are a few of our top picks.
Dogpatch Wineworks
2455 Third Stret
Located near AT&T Park, this spot for Wine Tasting in San Francisco offers both commercial wine and bottles made under their private label.
Bluxome Street Winery
53 Bluxome Street
The grapes come from Sonoma Valley and the wines are locally crafted. That means when you enjoy some great wine at this popular spot, that you'll be getting a real taste of San Francisco!
Tank 18
1345 Howard Street
Pair a wine flight with a fabulous cheese plate for a memorable night out at this popular spot in SOMA.
Sutton Cellars
601 22nd Street
If you want to support small wine makers then stop by Sutton Cellars. They buy grapes locally and make the wine onsite. They offer a wonderful sampler, which is a great way to get to know their most popular wines.
The Winery
30 Avenue G
Get a taste of Napa Valley without leaving the city when you visit this spot for Wine Tasting in San Francisco. With grapes for some of their wines sourced from Napa, and the wine made right here in San Francisco, they offer several varieties with something to suit every taste.
Wattle Creek Tasting Room
900 North Point Street (Ghiradelli Square)
Sample the large variety on offer at this Ghiradelli Square wine tasting room. The Sonoma County wines include both reds and whites, and this is a perfect place to enjoy a large selection of quality wines.
Love learning about wine? In addition to these opportunities for San Francisco Wine Tastings, you'll also find spots near Hotel Diva where you can attend informative wine seminars. K&L Wines (415.896.1734) and Golden Gate Wine Cellars (415.337.4083) both offer weekly seminars. Our ideally-located San Francisco Hotel has a number of Special Offers to welcome guests. Be sure to check our list of current offers as you plan your stay at Hotel Diva.