November 17, 2016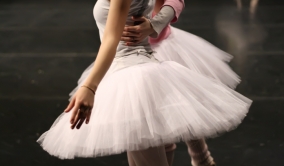 BRING THE KIDS TO THE NUTCRACKER AND MAKE THIS SAN FRANCISCO EVENT A HOLIDAY TRADITION.
Date: November 17, 2016
Everything about The Nutcracker says Christmas. The sights, the music, the costumes…it's easy to understand why attending a performance of The Nutcracker is a holiday tradition in many families. The ballet companies in many cities offer The Nutcracker during the holiday season, and the San Francisco Ballet is no exception.
Even people who have very little interest in ballet enjoy attending this fun, colorful show. It appeals to all ages thanks to the children that are part of the cast, the colorful costumes, and lively dancing. The San Francisco Ballet will offer The Nutcracker from December 10th through December 29th at the War Memorial Opera House. Whether you want to introduce your children to the wonderful world of ballet, or you just want them to enjoy a fun holiday Event, attending a performance of The Nutcracker will be a highlight of your visit.
If you are looking for a family-friendly San Francisco Event during a holiday stay at Hotel Diva then The Nutcracker is a perfect choice. Not only will the kids be entertained, but adults love the performance as well. Whether The Nutcracker is already a holiday tradition in your family or you just want to try something different, take a few minutes to reserve your tickets to this classic holiday ballet.
Tickets can be reserved online. Keep in mind that the most popular dates for this San Francisco Event will sell out in advance, so reserve your tickets early and add a performance of The Nutcracker to your holiday itinerary. Hotel Diva is ideally located near the venue for this and other popular holiday Activities in San Francisco.
While you're in town, consider some of the other fun holiday San Francisco Events like the Charles Dickens Christmas Fair, the Embarcadero Ice Skating Rink, and the San Francisco Symphony Holiday Concerts. You can also stop by the beautiful holiday window displays at Macy's or attend Holiday Gingerbread Tea at Laurel Court Restaurant. One thing is sure: It will be easy to get in the holiday spirit in San Francisco!
Treat your family to a holiday getaway at Hotel Diva to enjoy all the nearby San Francisco Events and Activities that make this time of year extra special. View our current list of Special Offers and then make reservations online or by calling 415.885.0200.
Want to Go?
What: San Francisco Ballet's The Nutcraker
When:December 10, 2016 to December 29, 2016
Where: War Memorial Opera House | 301 Van Ness Avenue at Grove Street