January 25, 2017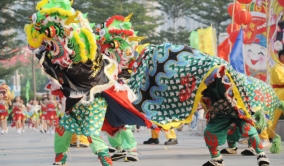 STAYING AT HOTEL DIVA IN FEBRUARY? JOIN 1 MILLION SPECTATORS AT THE CHINESE NEW YEAR PARADE AND FESTIVAL.
Date: January 25, 2017
One great thing about a stay at Hotel Diva is that there are always a lot of nearby Things to do in San Francisco. Exciting events take place throughout the year, and our ideal location is near many of the best events and activities. If you're planning a visit in mid-February then consider attending the Chinese New Year Parade.
The Chinese New Year Parade and Festival is the largest celebration of its kind in the country, and it has won many prestigious awards. The International Festival & Events Association named it one of the top 10 parades in the world, so it's easy to understand why massive crowds gather to join in the festivities.
The parade began as an effort by Chinese immigrants in the 1860's who were determined to keep their important culture and traditions alive. Let's just say that their efforts paid off. Each year the parade is attended by more than 1 million people, and the procession is truly something to behold.
In 2017, the Year of the Rooster, more than 100 entries will participate in the Chinese New Year Parade. As has been the case in past years, one of the most anticipated entries will be the Golden Dragon. This massive dragon measures almost 270-feet in length and requires 100 handlers. Along with the Golden Dragon, the massive crowds who line the streets will be treated to drum teams, flag corps, and a special appearance by Miss Chinatown U.S.A.
You'll want to arrive early in order to get the best viewing spots near the front of the crowd. Both locals and visitors start gathering several hours in advance. Even though it's San Francisco, it can be a bit chilly, so bring a jacket so you'll be comfortable while standing outside and enjoying all the fun.
Once the parade is over, you can head back to your beautiful accommodations at Hotel Diva to prepare for a fabulous dinner at one of the many nearby San Francisco Restaurants or treat yourself to room service.
Quick Parade Facts
When: February 11, 2017, parade starts at 5:15 p.m.
Where: Begins at 2nd and Market Street. It continues through Chinatown and wraps up at Kearny and Jackson
Celebrating: The Year of the Rooster
Planning a visit to enjoy the many Things to do in San Francisco? View our current list of Special Offers and then call 415.885.0200 to make your reservations at our beautiful San Francisco Hotel.