October 12, 2016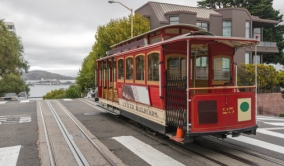 OUR IDEAL LOCATION AND LUXURIOUS GUEST ROOMS MAKE HOTEL DIVA AN IDEAL CHOICE WHEN YOU'RE LOOKING FOR A SAN FRANCISCO HOTEL FOR THE HOLIDAYS.
Date: October 12, 2016
It's hard to believe that Thanksgiving is almost here, but it is not too late to plan a fun Thanksgiving getaway to San Francisco. Hotel Diva has some special offers that are perfect for a holiday stay. There are many reasons to choose San Francisco for your Thanksgiving vacation, and the chance to stay at our modern, chic Accommodations is at the top of the list.
Hotel Diva is ideally located in the heart of the Theatre District. When you choose our Hotel, you'll be close to top San Francisco Activities, Attractions, Shopping, and Dining. Speaking of dining…you may be worried that you won't find anyplace nearby to enjoy a fabulous Thanksgiving dinner. Happily, that worry would be in vain as there are many Restaurants near our San Francisco Hotel that will be serving dinner on Thanksgiving Day. These include Burritt Room & Tavern, Michael Mina, One Market, Presidio Social Club, Balboa Café, The Big 4, and many others.
Some of the Restaurants serving Thanksgiving dinner near Hotel Diva will offer a special menu for Thanksgiving lunch and/or dinner. Others will serve their regular menu. No matter which nearby Restaurant you choose one thing is certain: You won't have to wash a single dish. Instead, you can dine and then return to your luxurious Guest Room or Guest Suite.
Every room at our San Francisco is thoughtfully appointed. You'll find amenities that will help you feel right at home such as plush mattresses, luxury linens, designer bath products, and windows that open so you can enjoy the beautiful Bay weather even when you're in your room. Need even reasons to be thankful that you chose Hotel Diva? How about complimentary high-speed Wi-Fi and nightly sake hour?
You'll find lots of San Francisco Activities to enjoy during a Thanksgiving stay at Hotel Diva. Start the day off on a healthy note by taking part in the Turkey Trot or the Thanksgiving Day 5k. Take a Thanksgiving cruise to Alcatraz or just around the Bay. Another option for Thanksgiving Day fun is attending a performance of Cirque du Soleil's Luzia, an enchanting look at Mexican culture.
Some Attractions may be closed on Thanksgiving Day, but you can still enjoy them the day before or the day after Thanksgiving. It just gives you reasons to extend your holiday by a day or two. You can read about many of the top Attractions near Hotel Diva in our San Francisco Attractions Guide.
Surprise your family or treat yourself to Thanksgiving at our San Francisco Hotel. Special Offers include the California Resident Rate, Parking Package, AAA Member Discount, and more. View our current Special Offers to see how you can save on your Thanksgiving stay at Hotel Diva. Make reservations online or by calling 415.885.0200.