September 19, 2016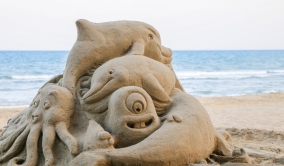 MANY POPULAR SAN FRANCISCO EVENTS TAKE PLACE NEAR HOTEL DIVA IN OCTOBER.
Date: September 19, 2016
Fall is a great time to plan a stay at our San Francisco Hotel. The summer crowds have gone, so you can enjoy all of the Attractions near Hotel Diva with smaller crowds. Many October visitors come to attend popular San Francisco Events. Read about some of the top October Events in San Francisco as you plan your stay.
Treasure Island Music Festival
October 15 through October 16, 2016
Treasure Island
This San Francisco Event has been a local favorite for 10 years. Performances take place on 2 stages, but you'll never have to choose one over another as no performances overlap. Dozens of food trucks will be on hand, so you can enjoy some local fare while listening to the music. Sadly, this will be the last Treasure Island Music Festival, so don't miss it.
San Francisco Barbecue Festival
October 22, 2016
The Yard at Mission Rock
A $10,000 purse attracts some of the country's best barbecue enthusiasts who will come to compete in the competition that takes place during this San Francisco Event. Attendees can indulge in generous samples, check out the latest barbecue gadgets, and stop by the Beer Garden for some craft brew. Tickets are $25.
Bay Area Science Festival
October 27 through November 5, 2016
Various Venues
This year, more than 150 activities and events will take place as part of the annual Bay Area Science Festival. Stage performances are also part of this fun, family-friendly San Francisco Event. Tens of thousands are expected to attend, and all of the Discovery Day events are free to the public. This is a great option for those who love to combine learning and fun.
LEAP Sand Castle Contest
October 15, 2016
Ocean Beach at Balboa Avenue
The sand castles are only part of the fun at this popular San Francisco Event! Live performances, food trucks, and raffles will also be available during this event, which has taken place since 1983. Teams of engineers, artists, and students will come to create memorable sand sculptures all in an effort to raise money for arts in education.
San Francisco Fall Art & Antiques Show
October 27 through October 30, 2016
Both serious and novice collectors will attend this annual San Francisco Event. This year's theme is Animalia: Animal Imagery in Art & Antiques. You'll have the chance to view and purchase works in several mediums, and special programs, such as lectures and book signings, will also take place during the San Francisco Fall Art & Antiques Show.
Planning a visit? View our current list of Special Offers and then make your reservations online or by calling 415.885.0200.