May 11, 2015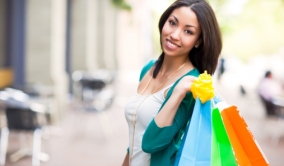 LOOKING FOR HIGH-END DESIGNER BOUTIQUES OR AN INEXPENSIVE DRESS TO WEAR WHILE YOU ENJOY SOME OUTDOOR SAN FRANCISCO ACTIVITIES? GUESTS AT HOTEL DIVA WILL FIND ALL TYPES OF SAN FRANCISCO SHOPPING NEARBY.
Date: May 11, 2015
When guests at Hotel Diva are looking for nearby San Francisco Activities, one that our staff often recommends is Shopping. San Francisco Shopping includes everything from too-good-to-be-true bargains to a great selection of high-end boutiques and designer goods. Browse the offerings at a Shopping center or stroll past Victorian and Edwardian townhomes in some of the City's popular neighborhoods lined with shops. Visit our San Francisco Shopping Guide to read about a few of the City's top Shopping destinations, or ask our helpful staff for even more suggestions. Below are a few staff picks to get you started.
Haight Street
Visit a place that was home to important recent history as you browse the offerings in small boutiques that line the Haight Street. Once the place where thousands of hippies came to enjoy the Summer of Love, Haight Street is now filled with independent shops, antique stores, and restaurants. People of a certain age may take particular interest in visiting some of the nearby Attractions, such as the house where members of the Grateful Dead lived during the 60's.
South Market (SOMA)
One of San Francisco's vibrant Shopping and Entertainment districts, SOMA is home to AT&T Park, the Museum of Modern Art, and some of the best San Francisco Shopping. SOMA boasts 2 square miles of Dining, Shopping, and Entertainment options, and this is a favorite place of both locals and guests of Hotel Diva. National retailers like Bloomingdale's and Nordstrom are located alongside more unusual offerings like Metreon. Metreon, which is operated by Sony Entertainment, features a store devoted entirely to the Sony Playstation. Art galleries and locally-owned boutiques can also be found in SOMA.
Westfield San Francisco Center
Westfield San Francisco Center is a mall that includes stores to suit a variety of budgets. Whether you're looking for something special at Tiffany & Co. or Coach, or you just want to grab a few moderately-priced outfits at Banana Republic or Express, there is something for everyone at this spot for San Francisco Shopping.
Filmore Street
Filmore Street offers a good mix of national retailers and independent boutiques. This vibrant neighborhood also features lots of dining options, so you can enjoy a leisurely lunch or dinner. Marc Jacobs, Ralph Lauren, and Eileen Fisher have stores in this neighborhood next to locally-owned shops including Timeless Treasures, Rag & Bone, and many others.
These are just a few of the many spots for San Francisco Shopping. Set aside a day to enjoy some retail therapy during your stay at Hotel Diva.