August 12, 2016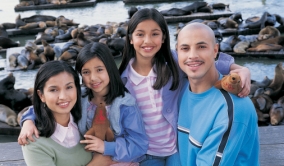 IF YOU'RE ONLY STAYING AT OUR SAN FRANCISCO HOTEL FOR ONE DAY THEN HERE ARE SOME FAMILY-FRIENDLY THINGS TO DO IN SAN FRANCISCO DURING YOUR SHORT VISIT.
Date: August 12, 2016
To enjoy all the best Things to do in San Francisco, you'd need to plan a longer stay at Hotel Diva, but if you only have one day, we have assembled a sample itinerary for how to spend your time. All of these Activities in San Francisco are perfect for families, and visitors all ages enjoy the activities included on our list. We wish you were staying longer, but after getting a taste of this beautiful city, we are sure you'll be back soon!
Breakfast at Honey Honey Café & Crepery
There are lots of stuffy, pretentious Restaurants in San Francisco, but this isn't one of them. Instead, just march up to the counter and order a delicious crepe or other breakfast favorite. Service is quick, so you'll be able to enjoy a great breakfast and then get on your way to the rest of your San Francisco adventures.
Morning Tour of Alcatraz Island
Head to Fisherman's Wharf where Pier 33 is the departure point for Alcatraz Island. Visiting this iconic Attraction is a can't-miss Thing to do in San Francisco for first-time visitors, and it's something both kids and adults will enjoy. You can take a guided tour of Alcatraz Island, see former cell houses, and much more. An orientation video provides a good overview of the history of Alcatraz. Depending on the time of year you visit, Alcatraz Island is also a good spot for seeing birds such as mallards, cormorants, and Canadian geese. The boat ride to and from Alcatraz Island gives you a chance to enjoy a few minutes on the water. The ferry ride takes about 15 minutes each way.
Visit the Sea Lions at Pier 39
A visit to see the famous Pier 39 sea lions is a fun addition to your one-day San Francisco itinerary. From late summer through late spring, you'll see hundreds of these giant creatures sunning themselves on the floating docks or splashing into the water. But don't worry if you're visiting at some other time of year as a few stragglers typically hang out at Pier 39 all year long.
Lunch and Then Time for a Snack
Fisherman's Wharf is home to many wonderful San Francisco Restaurants, so after enjoying lunch, stop by The Fudge House (also located on Pier 39) for a sweet treat! The heavenly scent alone is enough to draw in chocolate lovers, and the assortment of goodies will making deciding what to choose a hard task for the kids (and adults!) You'll find a delightful selection of fudge, caramel apples, toffees, and much more.
Exploratorium or California Academy of Sciences
Depending on how long you spent on the above Things to do in San Francisco, you may have time to visit another kid-friendly Attraction such as the Exploratorium or the California Academy of Sciences. Both combine fun and learning and have exhibits for kids of most ages.
Dinner at Colibri Mexican Bistro
As you wind down your day in San Francisco, consider enjoying dinner at Colibri Mexican Bistro. This Restaurant in San Francisco serves fresh, authentic Mexican cuisine, and it is a favorite of both locals and visitors. It's just a short walk from Hotel Diva, so after dinner, you'll be able to head back to your luxurious Guest Room and relax before heading out in the morning.
Planning a visit? View our current list of Special Offers and then make your reservations online or by calling 415.885.0200.