February 15, 2016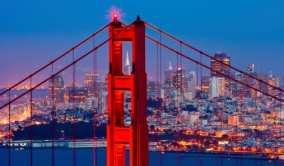 GUESTS AT OUR IDEALLY-LOCATED SAN FRANCISCO HOTEL WON'T HAVE TO GO FAR TO ENJOY SOME OF THE MOST POPULAR SAN FRANCISCO ATTRACTIONS.
Date: February 15, 2016
Guests at Hotel Diva are lucky travelers indeed. Not only will travelers who choose our San Francisco Hotel enjoy a stay in chic surroundings with luxurious bedding and thoughtful amenities, but they will also be in one of the City's most ideal locations. Some of the top Dining, Shopping, and San Francisco Attractions are just a short distance from Hotel Diva; including these 4 can't-miss Attractions. Whether you're in town for business or pleasure, try to visit 1 or more of these popular spots.
Alcatraz Island
One and a half miles off shore of San Francisco
Tel: 415.561.4900
This San Francisco Attraction is sure to long live in infamy for many reasons. Once thought to be escape proof, that theory was sorely tested when inmates escaped from the prison in June of 1962. By the next year, the prison closed. While prison officials maintained the escapees surely perished, their bodies were never found. So did they escape and live the rest of their lives on the run? The truth may never be known, but each year more than 1 million visitors come to explore the Island and its mysteries. After reaching Alcatraz Island via ferry, you will have the opportunity to explore the former prison, take a guided tour, or even enjoy looking at the various water birds that make the Island their home.
Golden Gate Bridge
The Golden Gate Bridge is one of the most recognizable San Francisco Attractions, and you'll at least see this oft-photographed structure even if you don't plan on visiting it. This 1.7 mile long Bridge is as beautiful as it is useful to commuters who drive to the Northern counties each day from the City. One of the best ways to enjoy a visit to the Golden Gate Bridge is by walking it. The pedestrian pathways on the Bridge are open each day from sunrise to sunset. You can also bike across the Golden Gate Bridge, and bike rental is available nearby. Be sure to enjoy the views from the scenic overlooks when you visit this Attraction.
Napa Valley
While not exactly a San Francisco Attraction, we think that every wine enthusiast should visit Napa Valley during their stay at Hotel Diva. In addition to visiting the wineries and the picturesque villages, you can enjoy a host of other Activities. Enjoy a fine-dining experience, do some Shopping, relax at a spa or take a ride in a hot air balloon. Napa Valley is just an hour drive from our San Francisco Hotel, so consider making the scenic drive during your stay.
Pier 39's Sea Lions
Beach Street & The Embarcadero San Francisco, CA 94133
415.705.5500
These San Francisco Attractions have flippers! A short time after the 1989 Loma Prieta earthquake, the sea lions began showing up at Pier 39. It seems they liked the Accommodations, because they stuck around. During the winter, about 900 of the creatures spend time at Pier 39, but a contingent remains even during the summer months. If you fall in love with the sea lions then you can keep up with them via the live feed sea lion cam that is available online.