March 23, 2016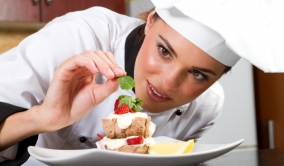 A STAY AT HOTEL DIVA IS NOT YOUR TYPICAL EXPERIENCE, SO WHY NOT ENHANCE YOUR VISIT FURTHER WITH A SPLURGE DINNER AT A FABULOUS RESTAURANT IN SAN FRANCISCO?
Date: March 23, 2016
You have chosen a stay at Hotel Diva because you want an experience that is an upgrade from the ordinary. During your stay at our exceptional San Francisco Hotel, consider indulging in some of the best Dining the City has to offer. Consider a meal at one of these Restaurants in San Francisco that offer some of the best splurge dinners in the City. Enjoy!
Saison
178 Townsend Street San Francisco, CA 94107
Tel: 415.828.7990
Serves dinner Tuesday through Sunday
This Restaurant in San Francisco is one of the most expensive in the country, but those who want a truly memorable dining experience should add it to their bucket lists. The 18-or-so-course menu changes nightly, and it is based on the best available ingredients. It is also based on the preferences of each guest, and each diners menu is individually curated for a unique experience. Dinner is $398 per person, but the prices can fluctuate based on diner preferences. The price for dinner with wine pairings starts at $696 per person. Reservations can be made up to 60 days in advance. Cancellations made less than one week before the date of reservation will be charged the full price.
Acquerello
1722 Sacramento Street San Francisco, CA 94109
Tel: 415.567.5432
Serves dinner Tuesday through Saturday
Looking for a Restaurant in San Francisco to enjoy a romantic, memorable dinner? Acquerello is a top choice. This spot for fine Italian dining has been a favorite since 1989. The dim lighting in this former chapel help to set the mood, but it is the food that will leave an impression. Diners can choose from a prix fixe menu or splurge on the wonderfully diverse tasting menu. The prix fixe menu is available in 3-course ($95), 4-course $120), and 5-course ($140) options. The tasting menu is $185 and optional wine pairings are $115. The 2,000 bottle wine cellar ensures a perfect pairing for every course. Enjoy some of best Italian food in the country at this lovely Restaurant in San Francisco.
Sons & Daughters
708 Bush Street San Francisco, CA 94108
Tel: 415.391.8311
Serves dinner Wednesday through Sunday
The owners of this Restaurant in San Francisco have a farm. The farm is dedicated to providing the chefs at Sons & Daughters with the finest produce that is used to create unforgettable dishes. The dining room is small (just 28 seats.) The menu is seasonal. The food is perfectly prepared. The only option is the tasting menu, and it changes based on the freshest available ingredients. The wine list is beyond impressive. All of these elements work together to make dining at Sons & Daughters truly special. The tasting menu is $115 per person. Reservations not canceled at least 48 hours in advance will be subject to a $50 cancelation fee.
Californios
3115 22nd Street San Francisco, CA 94110
Tel: 415.757.0994
Serves dinner Tuesday through Saturday
California is known for having some of the best Mexican fare in the country, and this Restaurant in San Francisco takes Mexican cuisine to the next level. There is one menu option at Californios: the chef's tasting menu. That's all you need to know – and it is all you will know until the meal is done. It is only at the conclusion of the meal that the printed menu is delivered to the table. Before that, everything that comes to the table is a delicious surprise. The menu changes seasonally and runs between 12 and 16 courses.
The above are only a few of the many splurge-worthy Restaurants in San Francisco located near Hotel Diva. Feel free to ask the staff at our San Francisco Hotel for additional suggestions about where you can enjoy a fabulous meal during your stay.